Legacy of Nikolaj Timčenko
The Legacy of Nikolaj Timčenko represents a significant part of the holdings of the "Radoje Domanović" Public Library. This type of material has greatly increased the value of the cultural heritage of Leskovac and its surroundings. From the point of view of science and research work, the Legacy is extremely valuable, as it represents a carefully formed library of primary and secondary literature, within the specific areas in which Nikolaj Timčenko was interested. It is also an indispensable documentary source when studying the life and work of the owner. As it is
one of a kind and unique as a whole, it has the characteristics of a museum, and in this manner the authenticity of its collection is preserved and an atmosphere is created in which the modern user can get a sense of the time during which the library was created. By browsing through this fund, we discover the inner world and the enthusiasm of a creative mind. At the same time, we have the opportunity to identify the sources of and influences on his work, to view the work of the legator in a literary, scientific and cultural context.
The people of Leskovac remember Nikolaj Timčenko as an exceptional man and friend, and the professional public remembers him as an essayist, literary theorist, a critic of a time. There is no significant literary or philosophical journal or magazine in Serbia and the former Yugoslavia without his contributions, which were received everywhere with attention and esteem. They could be compiled into several valuable books that Timčenko did not manage to publish during his lifetime. And he did not put significant effort into this, known for his exceptional modesty
and self-criticism.
Such endeavors were, during one period, also thwarted by the position of a person politically and socially discredited in the city in which he lived and worked. A total of more than 15,000 publications that once filled every corner of Timčenko's house testifies to the fact that his whole life was dedicated to books. With the aim of making it available to the public for use, as of 2014, his library is part of the "Radoje Domanović" Public Library, as a legacy that bears his name.
Based on the agreement on the joint formation of the "Legacy of Nikolaj Timčenko" library, signed by representatives of the "Nikolaj Timčenko" Endowment and the "Radoje Domanovic" Public Library, in the past period full conditions have been secured for keeping the legacy of Nikolaj Timčenko and making it available to the public.
Monographic and serial publications, within the total fund of bibliographic units, processed and spatially situated, are fully accessible to users. The processing of library materials is done in the "COBISS" system, which, through an electronic catalogue, enables complete informative availability in the widest area. The fund is situated according to the method of universal decimal classification, and access to users is open and enabled exclusively through librarians' assistance. Taking the publications for use outside the Library, as specified in the contract, is not allowed.
This is why the Library has organized adequate and undisturbed use of books. The Legacy has an electronic reading room with 6 reading seats and free internet access for Library members. Librarians are constantly available to users for providing necessary information, so users of the Legacy find themselves in a peaceful, pleasant environment that, along with rich book materials, provides a productive atmosphere and fertile ground for literary-artistic, scientific, critical and research work. The space is made complete with pieces of furniture and personal photographs, so
one can feel the spirit of the time in which Timčenko lived and created.
As for the works that captured his attention, it is clear at first glance that Timčenko was a connoisseur of various fields of human creation, which speaks of the astonishing breadth of his spiritual curiosity. As a philologist, and by vocation a historian and theoretician of literature, Timčenko, as his contemporaries wrote, viewed literature comprehensively, studying all its varieties – folk and art, old and new, domestic and foreign.
Serbian literature was close to his heart: Saint Sava and the old man Milija, then Vuk and Dositej, then Njegoš, then Dis and Dučić, then Bogdan Popović and Slobodan Jovanović, then Rastko Petrović and Crnjanski, then Andrić and Ćopić, then Isidora and Desanka, then Popa and Pavlović, then Bećković and Simović, then Mihailović and Kovačević, then Danojlić and Kolundžija, then Bratić and Hadži Tančić, and many others, up to the youngest. With regards to world heritage, he was especially dedicated to antiquity, on the themes of which he prepared an entire book of his works, then the France of the 17th century and Russian themes (Pushkin, Tolstoy, Chekhov, Dostoevsky, Gogol …).He was also attached to the local literature, studied old authors (Žak Konfino, Milivoje Perović, Brana Mitrović) and followed new ones, recognizing and supporting young writers. But such a wide and diverse field as literature did not satisfy but, on the contrary, aroused his spiritual hunger and drove him to enter other fields of art and knowledge – theater and museology, history and anthropology. He was especially attached to philosophy and, to provide a few names – to Socrates, Pascal, Diderot, Unamun, Camus and Nikola Milošević. The real treasure of this fund, in addition to monographs, are periodicals that include almost all important magazines in the field of literature and social sciences, which Timčenko continuously received, and among them are many old editions that are true rarities. As of 2018, users also have at their disposal the manuscript legacy of Nikolaj Timčenko, which they can access by submitting a request to the "Nikolaj Timčenko" Endowment, in which they would explain the goals, intention and manner of intended use of the manuscript. The numerous corrections, interventions, crossed out sections, additions, different versions reveal to us the path which the writer had taken until a completed piece of work was created, how many ups and downs there were, how much turmoil and shaping.
This is why the Legacy of Nikolaj Timčenko represents a fertile ground for literary-artistic, scientific, critical and research work, but also an unavoidable meeting point of the legator with the generations that succeed him, with admirers, curious individuals, colleagues, researchers, historians, documentarians, students, lecturers, but also all those who come to the library, in person or virtually, with a desire to expand their knowledge. The Legacy of Nikolaj Timčenko exceeds local significance and represents a significant segment of Serbian and world cultural heritage. Proud of the trust that the donors have placed in it, the "Radoje Domanović" Public Library invites you to get acquainted with all that Nikolaj Timčenko has left behind, because this is how he will continue to live, through the works he created.

Колекцијa
Дигитализованих
Ретких Издања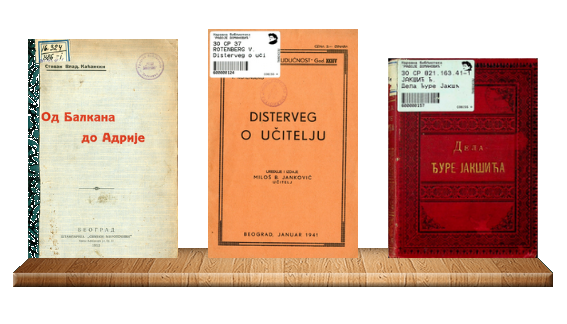 #lebiblioteka